The Utah Office of State Treasurer performs a broad array of functions that are critical to the banking, investment, and financing operations of state agencies and municipalities.
The office is also committed to helping Utahns find their lost property and increase their financial capability.
Constitutionally Defined Role
Utah Constitution, Article VII, Section 15:
(2) The State Treasurer shall be the custodian of public moneys.
(3) [The Treasurer] shall perform other duties as provided by statute.
Responsibilities outlined in UCA 67-4.
Treasury: Operationally Defined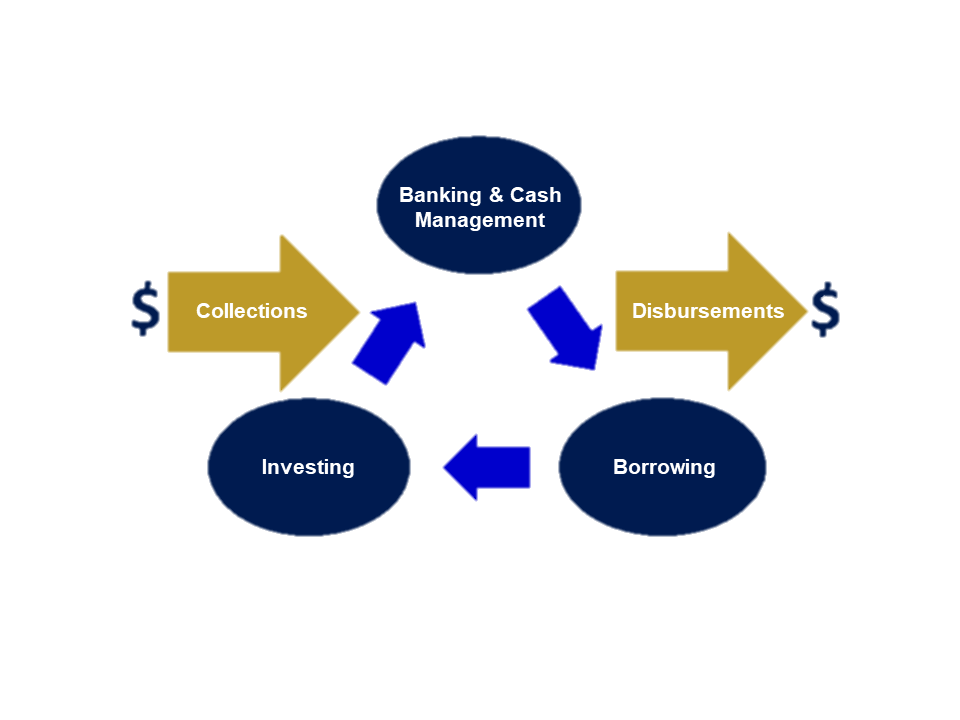 Essential Functions of the Office
The office orchestrates the state's cash collection, concentration, disbursement, investment, and debt management processes. Treasury staff carefully manage banking, brokerage, and custodial relationships to ensure banking operations are conducted in a highly efficient, secure, and cost-effective manner. The office also regularly leads process improvement and cost-saving initiatives that enable the state and municipalities to leverage innovations in the banking and payments arena.
Additionally, the office also administers the $29 billion Public Treasurers' Investment Fund, which provides daily liquidity to state agencies and more than 700 local government entities throughout Utah. Additionally, the office administers several long-term investment funds and a portfolio of statutorily required government escrow accounts and letters of credit.
The office also issues all debt obligations authorized on behalf and in the name of the state, manages post issuance market disclosure requirements, and maintains investor and rating agency relations.
---
LEARN MORE
---
Utah Unclaimed Property Division
Millions of dollars in unclaimed property is turned over to the state every year. This money comes for sources like dormant bank accounts, uncashed checks, safe deposit box contents, and unpaid insurance benefits.
When a business owes money to an individual it cannot find, it remits those funds to the state's Unclaimed Property Division after three years of non-contact with the owner.
In calendar year 2020, the Division received 449,998 unclaimed properties totaling $52.1 million, and it reunited $36 million million in lost property with rightful owners in fiscal year 2021 (July 2020 - June 2021). Visit mycash.utah.gov to search for unclaimed property and start your claim or call (801) 715-3300.
LEARN MORE
---
Financial Empowerment
The state treasurer chairs and staffs the Utah Council on Financial and Economic Education (UCFEE), which was established by legislative resolution (SCR 3) in 2009 to ensure improved financial and economic education in Utah through the collaboration of private and public entities that engage in teaching financial principles and share a commitment to empower individuals and families to achieve economic stability, opportunity, and upward mobility.
---
LEARN MORE
---