Record-breaking $40.6 million in unclaimed property reunited with rightful owners in FY2020
SALT LAKE CITY – April 8, 2021 – Utah State Treasurer David Damschen today announced that the Utah Unclaimed Property Division received $52.1 million in lost property at the end of 2020. This property comes from sources like dormant bank accounts, overpaid medical bills, uncashed checks, safe deposit box contents and unpaid insurance benefits.
"We encourage Utahns to check mycash.utah.gov every year as they file their taxes to see if they have lost property to claim," Treasurer Damschen said. "We receive between $30 million and $60 million in new unclaimed property each year, so even if you have searched our online database for unclaimed property in the past, check again. We might have received additional properties since you last visited our website."
When a business owes money to an individual it cannot find, it remits those funds to the state after three years of non-contact with the owner. Property holders remitted 449,998 new properties to the division by the November 1 annual reporting deadline, along with the names and last-known addresses of owners.
"There are many ways to lose track of property. People might move and forget they had a deposit with the utility company, or they might be the beneficiary of a life insurance policy they didn't know existed. Checking to see if you or your friends and relatives have lost property is simple, easy and something everyone should do at least once every year," Unclaimed Property Division Administrator Dennis Johnston said.
Unclaimed property is usually money, but the division also regularly receives items from abandoned safe deposit boxes that can be claimed. Some interesting items the division is working to reunite with rightful owners include coins, baseball cards, art and photographs.
The division consistently strives to make record-breaking unclaimed property payouts to rightful owners by employing new strategies, implementing aggressive outreach campaigns, leveraging technology and forging partnerships with charities, local government leaders and the news media. In Fiscal Year 2020 alone, the division returned a record-breaking $40.6 million in lost cash, stock and other properties to individuals, businesses and charitable organizations.
"We have achieved a 19% average annual increase in the value of properties paid to rightful owners during the past 10 years with methods that are both high-tech and high-touch. We utilize claims processing technology and digital advertising to reach the greatest number of unclaimed property owners, while also implementing more personalized outreach and locating efforts to identify owners who might otherwise be missed," Treasurer Damschen said.
For more information and to search property, visit mycash.utah.gov or call 801-715-3300.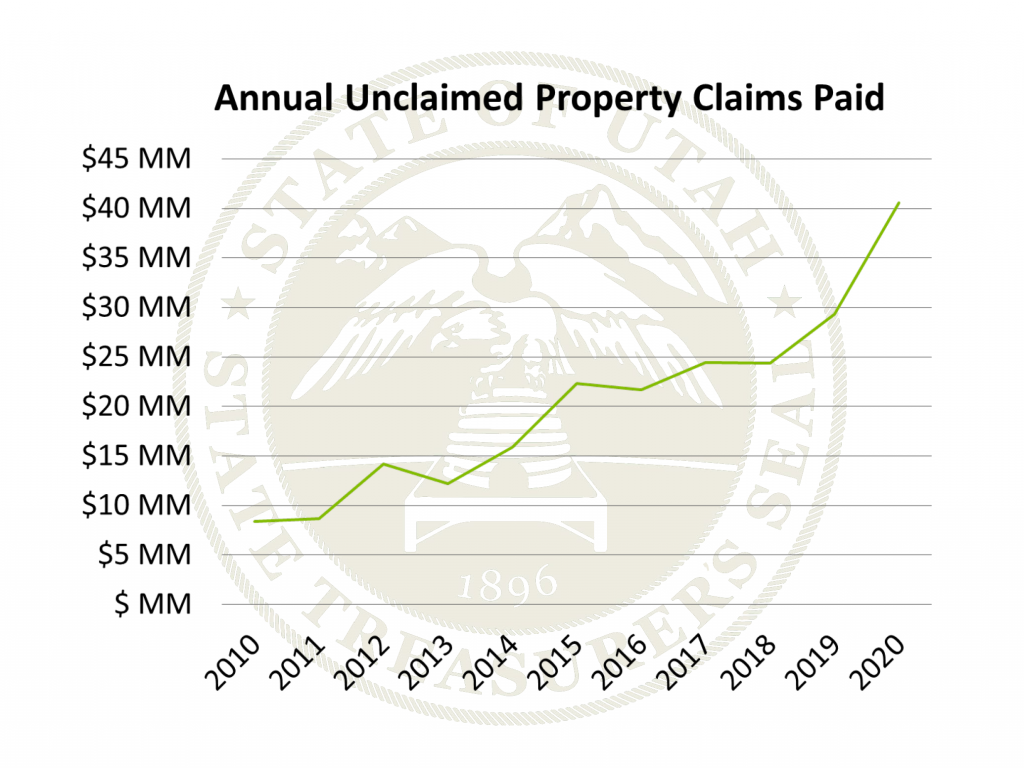 ###